The Calypso 968 Featured Artist: Frank Lloyd Wright
What is architecture anyway? Is it the vast collection of the various buildings which have been built to please the varying tastes of the various lords of mankind? I think not. No, I know that architecture is life; or at least it is life itself taking form and therefore it is the truest record of life as it was lived in the world yesterday, as it is lived today or ever will be lived ... So, architecture I know to be a Great Spirit.
- Frank Lloyd Wright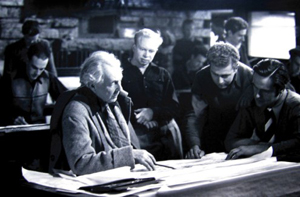 Born just two years after the end of the American Civil War, Frank Lloyd Wright (1867-1959) was witness to the extraordinary changes that swept the world from the leisurely pace of the nineteenth-century horse and carriage to the remarkable speed of the twentieth-century rocket ship. Unlike many of his contemporaries, who accepted such changes with reluctance, Wright welcomed and embraced the social and technological changes made possible by the Industrial Revolution and enthusiastically initiated his own architectural revolution.
To Wright, architecture was not just about buildings, it was about nourishing the lives of those sheltered within them. What were needed were environments to inspire and offer repose to the inhabitants. He called his architecture "organic" and described it as that "great living creative spirit which from generation to generation, from age to age, proceeds, persists, creates, according to the nature of man and his circumstances as they both change."
During a lifetime that covered nearly a century, Wright took full advantage of the material opportunities presented by the unprecedented scientific and technological advances of the twentieth century without losing the nineteenth-century spiritual and romantic values with which he had grown up. In the process, he transformed the way we live.
Wright's anchor and muse was Nature, which he spelled with a capital "N." This was not the outward aspect of nature, but the omnipresent spiritual dimension. He wrote:
Using this word Nature ... I do not of course mean that outward aspect which strikes the eye as a visual image of a scene strikes the ground glass of a camera, but that inner harmony which penetrates the outward form ... and is its determining character; that quality in the thing that is its significance and it's Life for us, -what Plato called (with reason, we see, psychological if not metaphysical) the "eternal idea of the thing."
In 1991, the American Institute of Architects named Frank Lloyd Wright the greatest American architect of all time and Architectural Record published a list of the one hundred most important buildings of the previous century that included twelve Wright structures. Twenty-five Wright projects (including the recently named Florida Southern College campus) have been designated National Historic Landmarks, and ten have been named to the tentative World Heritage Site list. Such recognition-in addition to the international honors he received during his lifetime, the dozens of major exhibitions that have been mounted, and the multitude of books and articles that have been written about his life and work-confirms Wright's critical contribution to architectural history and the architectural profession at the same time that we draw upon the same legacy to find direction for the future.
Information & photos courtesy of the Frank Lloyd Wright Foundation: www.franklloydwright.org
Some of the Frank Lloyd Wright pieces we carry...